"In every walk with Nature one receives far more than he seeks." 
                                            – John Muir 
I am a lover of the outdoors. Some of my favorite memories when I was a girl were hiking in the woods with my family, my dad leading the way. It was an adventure—an escape from the everyday stresses of life. 

I have always been a lover of literature as well. Just as walking through the woods is an escape, so is getting lost in a story. I enjoy finding inspiration and wisdom in words and collect quotes that inspire me. Thus, when I found the writings of John Muir, they had a doubly strong impact, for he, too, was a lover of nature and captured in beautiful prose what he saw and felt about it. 

I am lucky enough to have a group of friends that love being outdoors as much as I do and we escape almost weekly to the Virginia wilderness for a hike. In addition to other trips on my own and with my family, I try to capture the beauty of those woodland wanderings through my photography and find many images that I feel bring to life the words of John Muir. Though he was describing mostly the Sierra Nevada mountains in his writings, I hear the echoes of his words as I explore the Blue Ridge. I have matched his words with my images, as I feel they are a fitting tribute to the beauty of nature I have attempted to capture. Whether I wander with friends, family, or on my own, I always receive more than I seek and this exhibit is my attempt to share that bounty with you. 
"Climb the mountains and get their good tidings.
Nature's peace will flow into you as sunshine flows into trees." 
Sunshine Welcome
Pilot Mountain State Park, NC
Sept 2021
"Into the forest I go, to lose my mind and find my soul." 
Autumn Awaits
High Bridge Trail State Park, VA
Oct 2021
"As long as I live, I'll hear waterfalls and birds and winds sing…
and get as near the heart of the world as I can."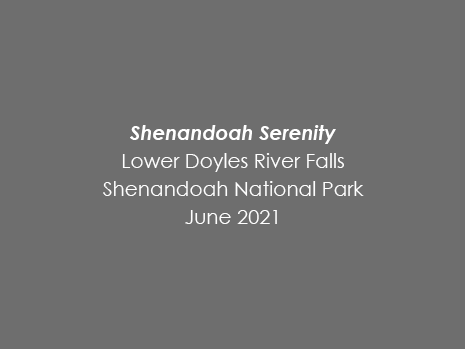 "Rocks and waters, etc., are words of God, and so are men. 
We all flow from one fountain Soul. 
All are expressions of one Love." 
"Oh, these vast, calm, measureless mountain days…
opening a thousand windows to show us God." 
Perfect View
From Laurel Falls Trail
Great Smoky Mountains, TN
July 2020
"Everybody needs beauty as well as bread, 
places where nature may heal and cheer and
 give strength 
to body and soul alike."
Early Autumn Glow
High Bridge Trail State Park, VA
Oct 2021
"We are now in the mountains and they are in us,
kindling enthusiasm…making every nerve quiver,
filling every pore and cell of us."
Storm Arising
Summit of Little Pinnacle,
Grayson Highlands State Park, VA  
Aug 2020
"Every natural object is a conductor of divinity
and only by coming into contact with them...
may we be filled with the Holy Ghost." 
Stream of Leaves
Larus Park, Richmond 
Oct 2019
"Of all the paths you take in life, 
make sure a few of them are dirt." 
Enchanted Azalea Forest
Norfolk Botanical Gardens, VA
May 2021